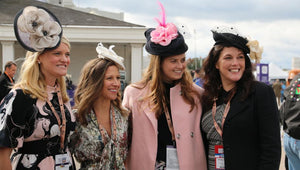 We're Getting Our hats out for the
Get Ready for the Breeder's Cup with Carl Meyers!
Carl Meyers is a historic Lexington, KY fashion landmark. We specialize in formal wear as well as all the essentials for hitting the racetrack in style. The Breeder's Cup is just around the corner and we have the hats you need! 
Hats, Dresses, & More Hats!
The Breeder's Cup is coming up fast and we know you want to be prepared! Here at Carl Meyers, we have everything you need to make a statement at the racetrack. We have an amazing selection of hats in all shapes and sizes, perfect for any occasion. Whether you're looking for something dressy or something more casual, we've got you covered. So don't wait any longer, come see us today and get ready for the Breeder's Cup!
While You Were Away…
FALL ARRIVED
Regardless of what you choose to wear this fall, remember that the most important part of your look is feeling confident and comfortable. With so many fashionable options available, there's no reason not to find an outfit that makes you feel like a million bucks. If you need some inspiration for your Breeders' Cup weekend wardrobe, be sure to check out our online collection of special occasion hats today. From there, it'll be easy to build the rest of your look around a stunning headpiece.