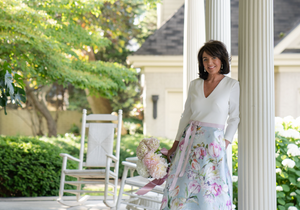 Sherri Mosley
Sherri and her husband Neil are thrilled to be back in Lexington after several years away from home. As the new owners of Carl Meyers, they are honored to continue the legacy Carl began with the ladies clothing boutique that bears his name.
Sherri was born and raised in Lexington, while Neil grew up in Eastern Kentucky, moving many times with his family and their involvement in the coal industry. Sherri studied Merchandising, Apparel, and Textiles at the University of Kentucky for three years, and later graduated from East Tennessee State University with a degree in Communications and Public Relations.
Neil also attended UK and received his B.S. in Mining Engineering. After graduation, he started his career in the coal industry, receiving his Professional Engineer Certificate. The couple has two children: Bradley and Rachel.

Carl's eye for elegant and sophisticated style is still evident in the clothing lines carried in the store along with several new designers that will be coming on board. Clients of the store can expect the same quality and service they have become accustomed to in their visits to the shop over the years.
The Mosleys welcome you to visit Carl Meyers, located at 111 Clay Avenue, Lexington, KY.
Haley Gatewood
Haley is the store manager at Carl Meyers Boutique. Her most recent roles were in the bourbon and equine industries, as Buyer for the Kentucky Bourbon Trail and special projects coordinator with the Land Rover Kentucky 3-Day Event and Breeder's Cup 2018. She brings over 17 years of Corporate-trained experience to the Carl Meyers team. Her favorite part of her career is making women feel beautiful and never 'working' a day in her life. Fashion is her passion and she values long-lasting relationships with her clients.
Haley has lived in Lexington for over 15 years, having moved here to attend the University of Kentucky. She is a graduate of the College of Agriculture, and holds a Bachelor of Science in Merchandising, Apparel, and Textiles. Haley sat on the Retailing Tourism Management Advisory Board from 2013-2018. She spent many years hiring, training, and mentoring students before and after graduation, supporting her store and alma mater, setting them up for success within the merchandising and retail industries respectively.
Haley's most notable position was as Store Manager at White House Black Market in Lexington, in which she worked for ten years serving the Lexington and surrounding markets for the Chico's FAS Inc. brand. Haley is proud to have joined the Carl Meyers team and legacy, and continues to bring iconic fashion to her favorite community.
Rachel Evans
Rachel is the Digital Content Manager and Photographer for Carl Meyers. You will see her behind the scenes planning events, running the social media accounts and coordinating photoshoots. With a passion for digital marketing and a keen eye for market trends, she always strives to create impactful campaigns that engage audiences. She graduated from the University of Kentucky in 2018 with a Bachelor's Degree in Communications with a marketing and public speaking focus.
After graduation, she started her own online lifestyle clothing company (noworriesky.com) to bring attention and inclusion to the special needs community. Rachel now lives in Houston, Texas and travels the world with her husband and giant schnauzer puppy, Tahoe. Rachel's passion for fashion makes her a great addition to the team and she's very excited to work alongside her mom in an industry they both love.