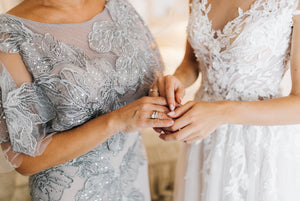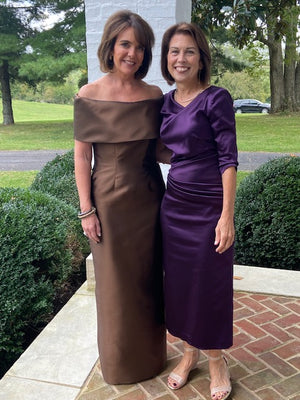 Bring Her Big Day & Your Style to Life
Did you ever imagine this day would come? The momentous day you give her hand away? With venue selected, date picked, and invites sent, there is another question at the top of the to-do list: what to wear on the wedding day? For the Mother of the Bride, your gown is paramount.
At Carl Meyers dressing the Mother-of is our passion. We are the only store in Lexington that can have a couture quality gown created by an exclusive selection of designers unavailable off the rack.  You will fall in love with the romantic, chic, and stately designs of our custom and off the rack mother-of dress designers. They include Chiara Boni, Catherine Regehr, Frascara, or Tom and Linda Platt. Mi Jong Lee offers more contemporary, fashion forward pieces, and her sister line Emmelle is designed specifically for full bodied figures.
So what can you expect for your fitting?
You are guaranteed our undivided attention if you can book ahead to make a fitting appointment - but walk-ins are welcome too. 
It's also best if you can come at least 8 - 12 weeks before the big day, with a picture, or an idea about a silhouette and length.  Choose your neckline, your sleeve, and we will advise on colors and fabrics. Your dress will be tailor made to fit the occasion, to blend or contrast with the bridesmaids, as you wish.
Questions we will ask at your fitting
When is the wedding? 
What's the venue?
What time of day?
What are the bridesmaids wearing? 
Why does it matter what the bridesmaids are wearing? Sherri says, "customers often don't think about how the photos will look, but we like to keep this in mind when we help choose your gown, imagining the color wheel, with an eye to curating the photos and the arrangement of the wedding party."
If your budget doesn't allow for custom, it is always our pleasure to help you choose  from our wide selection of pieces available off the rack - and alterations are always complimentary for all full priced items! 
Sherri says, "I don't want anyone to think they can't come into our store and not afford it. We work with any budget and all types  of unions." Getting creative is also one of our strengths.  
Give us a call to book your fitting today! 
Can't Make It In? We've Got You Covered!
Custom Fittings For The Mother Of
---