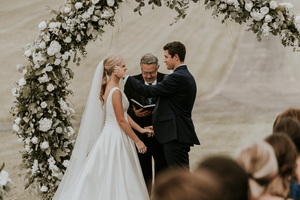 Shares her "Mother Of" Story
And All the Joy that Comes Along with It!
What advice do you have for "Mothers of the Bride" and their daughters during the wedding planning process?
The first and most important piece of advice I have is to communicate all your expectations from the start in a respectful manner with one another. You should each understand that there are going to be different points of view throughout the process, and you should both listen with the intent of hearing one another's perspective.  Rachel and I each made lists of our personal priorities;  location, time of year, venue, dress, guest list, flowers, food, photographer, etc. If you know at the beginning what the expectations are, then you will be able to prioritize what is the most important to you and will choose your battles accordingly (and believe me, there will be battles… LOL), and you will know from the start the areas in which you are not willing to negotiate. Keep in mind, it is just an event, and you don't want to ruin your relationship over trivial things.
The second piece of advice I would give is around the timeline.  It can be summed up very simply:  The earlier the better.  If you know venues, florists, caterers, rental companies that you want to use, go ahead and get on their calendars as soon as you have a general idea of the date.  This doesn't mean that you have to know all of the details already, but you do need to make sure you are on their schedules.  Our daughter was engaged for 14 months.  She immediately knew the month she wanted (the day she got the ring in fact) and even though at that time we had no clue where the wedding would be, I already knew who we should use for flowers and food and secured the timeline with those vendors.
When thinking about your own daughter's wedding,
was there one moment that sticks out to you as your favorite or most special memory?
In all honesty my absolute favorite part of Rachel's wedding was witnessing the genuine feeling of love between her and Clay.
One look at either of them on that day, and everyone knew how in love they were and that they were absolutely meant for each other.  The joy that surrounded them and the look on her face the entire day made every bit of planning and work worth it.  One little moment that sticks out to me the most was when they were standing at the alter saying their vows to each other and Clay reached over and ever so gently pushed her hair back from her face. It was windy during the ceremony and her hair kept blowing into her face.  In that exact moment, looking at the love he had for her, my husband and I knew that our daughter was loved unconditionally and would be taken care of. We have been blessed not only with a wonderful daughter, but with an amazing son-in-law as well.
The other thing that I really enjoyed was just watching it all come together.  I am a strong believer in "planning your work, and then working your plan."  Honestly, even if things had gone wrong, it would have all been okay. I made up my mind the few days before the wedding that I would stay calm, focused and positive throughout the entire weekend. I wasn't going to sweat the small stuff or get upset over something that wouldn't matter later. At the end of the day, it is just an event, and we were surrounded by everyone we loved, so what's left to get upset about?  Fortunately, as far as I knew everything went smoothly.  There was a threat of rain at the exact time of the ceremony but we just knew it wasn't going to happen, because we didn't have plan for that.  As luck would have it, not a drop of rain fell until the very second after they walked into the reception tent.  
Tell us a little bit about
your planning process, were there obstacles to overcome or disagreements that were hard to get passed?
I am not going to say that our planning process was without some struggles, because there were certainly a few.  One small thing from the start that really bothered me was Rachel's desire to wear tennis shoes with her dress.  I was mortified. I knew my mother would have been mortified as well.  The more I thought about it though, I realized that this was such a small thing, why in the world was I so upset about it?  Did I really want to go to war over this? It would not have been worth it and would have caused a lot of undue stress for both of us, so I let it go.  I told her to wear them if she wanted that I didn't really care (of course I also knew what kind of dress she wanted and that her feet weren't going to show anyway...)  In the end, I can't even remember if she wore them or not. 
Aside from the small things, there were bigger issues at hand- mainly location and guest list.  This is where things between us got a little ugly.  We were both very inflexible for quite some time and found ourselves calling friends and family to mediate or just to vent to. Rachel and clay have traveled the world together, so she decided she wanted a destination wedding. She wasn't quite sure where, she just knew she absolutely did not want it in Kentucky. A month before getting engaged, Rachel and Clay had moved to Houston, Texas.  She immediately fell in love with her new home.  She even told me one day, "Mom I am just sure I was born to be a Texan.  I love it here."  She loved it so much that she was quite insistent on having her wedding there. While I loved her enthusiasm and her desire to show Texas to everyone, I also knew what kind of wedding she wanted and that our home in Kentucky would be a much better place to plan.  It took quite some time and quite a bit of vocal disagreement to get her to come around to this point of view. It wasn't until we started the planning process by putting everything in a spread sheet of how much it would cost from one place verses the other. It was hard for her and I to communicate and handle all the details from a thousand miles away: hiring caterers, florists, rental companies, etc. Not to mention, there was considerable added expense as well that would have impacted the overall wedding if we did it outside of Kentucky.  I will be honest, it wasn't looking good there for a while, because she was wholeheartedly convinced that she had seen every single venue Central Kentucky had to offer and she didn't like a single one of them- didn't think any of them would be unique, but then… we finally found one and it was love at first sight for all of us and we had now gotten over the first hurdle.
Our second hurdle was the guest list. Once again, we had reached an impasse and had both dug our heels in deep. Rachel was so excited and wanted the wedding to be fun for everyone and she is also such a caring person that she wanted to be sure that she and Clay knew every person there and were able to spend time with each of them. However, while it was her wedding, it was our event and therefore there were people that we know we wanted to invite and those we knew we should invite. For example, my husband and I expressed we wanted to include friends of the parents or grandparents, coworkers and family that may not be seen very often. Whether she knew it or not, those people had been a part of her life and we wanted to make sure they were invited to what would be her biggest and best day. Rachel and Clay have a lot of friends.  My husband and I have a lot of friends and an even bigger family. It is usually the parents that are worried about the guest list being too big, in our case, it was the bride. She was worried the wedding would lose the intimate feeling they wanted of being surrounded by those closest to them. In the end, we both compromised a little and although we had over 200 guests, it still felt very manageable and intimate.  Rachel and Clay said they felt the same.
What did you find the most surprising about the planning process?
To me, the thing that surprised me the most was the fact that people did not seem to RSVP the way I expected they would.  Maybe I am old fashioned…. But I was taught to RSVP quickly when I received an invitation.  It was challenging when we were just a couple of weeks out and still had not "officially" heard from people we knew were coming, or people who did not let us know who their "plus ones" were.  It put us up to the last couple of days making adjustments to the seating chart.  We had over 200 guests and each of their names were handwritten at their place setting…. this takes time and advanced planning. So, my advice to everyone out there is:  RSVP!
Despite all the planning, was there anything that didn't go exactly how you had hoped it would?
There were a couple of things that didn't go exactly as I had envisioned them, but luckily it wasn't anything that anyone else would have noticed.  One little hitch that is kind of funny is that we had custom labels made for water bottles.  I labeled the 300 bottles myself and they ended up in my car because they never got unloaded with the rest of the bar supplies.  Nobody knew they were in my car!  Again, nobody noticed… well… unless they wanted a bottle of water!
The biggest miscommunication was the pre-wedding photography timeline between Rachel and I. Rachel and Clay were doing a first look, so they wanted to also get all the bridal party photos out of the way before the ceremony. Rachel's brother, Bradley, was staying with his grandparents in a hotel downtown instead of on the property with the rest of the bridal party. It slipped my mind that he had to be there for those photos, so I didn't make plans to have him at the venue at the photographer's scheduled time to take pre-wedding pictures of the bridal party…. Rachel was so upset and refused to continue with that portion of the pictures until he arrived. She loves her brother and says the pictures didn't mean anything without him there and in them. I didn't blame her. 
How did you decide what to wear?
Deciding what I wanted to wear was really easy.  Owning my own store, that specializes in "mother of" attire, I have the advantage of getting to see a wide array of designs and how they fit various people.   I love fabrics and how they drape on a body or how they photograph.  As for the color, I chose something a little unexpected for a mother of the bride. The wedding was in October on a horse farm in KY and I have brown hair and brown eyes.
As for the color, I chose something a little unexpected for a mother of the bride. The wedding was in October on a horse farm in KY and I have brown hair and brown eyes. The bridesmaids would be wearing olive, so I went with a bronze silk and wool off the shoulder long gown.  Brown is not typically a color that a Mother of a Bride chooses but I wasn't a typical mother of; I wanted something different and unexpected.  Honestly, choosing my dress and  Rachel's dress were the easiest parts of the whole thing as she also knew exactly what she wanted and what looked best on her.  I try to encourage my clients to think about the photos.  You don't ever want one person (mother of the bride, groom, grandmothers, etc) standing out like a sore thumb.  Keep the overall aesthetic of the photos in mind.
What did you do to make sure that the Father of the Bride also had a role in the entire process- how did you make him feel special and included?
Fathers have an important role in their daughter's lives, so we wanted to make sure he had a role in the wedding as well- not just with the budget, or getting things from here to there, etc, but being involved in a meaningful way that makes both him and his daughter feel special.  I am fortunate in that my husband is an engineer.  He thinks like an engineer and was able to help me with processes all along the way and oh my goodness does he love a spreadsheet!  His spreadsheet mentality came in very helpful during the planning process. He also has a good eye for design and he used this to make something very special for the wedding. Together, he and Rachel actually designed the arch that was used at the ceremony.  Once it was covered with flowers it was absolutely spectacular!  Rachel told everyone, "My dad made that!!"  I know that made him feel special.  He was also involved by getting to share another one of his loves: golf!  He took complete charge of all the men in the wedding party by planning every detail of a golf outing for them the day before the wedding at our country club.  He thought of absolutely everything- from what they would have for lunch down to making personalized towels for each one of them.  He really enjoyed getting to be involved.
Also, here's a true story…
He wrote his speech out the week after she got engaged! I think it's something that daddy's think about their whole life and he wanted to get in front of it and at least put something down on paper to build from. In the end, it was the most heartfelt, genuine lovely speech that I had ever heard. There was not a dry eye in the room! He absolutely adores his little girl and was so proud to see her marry her night and shining armor. If another man was going to take his place, he was certainly glad it was Clay. Although, I don't think he quite thinks of it that way. 
What do you think was the overall biggest challenge, and how did you navigate that?
I have alluded to the disagreements that we had early in the process regarding location and guest list and getting Rachel and I to look at each other's perspective rather than our own viewpoints, so I would say that managing our relationship during all of that was the biggest challenge.  My advice is to have someone you can talk to about what is going on, someone you can trust, but most importantly someone who is also able to see the situation from the other person's point of view as well to help give you empathy for their perspective. Rachel and I often ended up talking to the same person- so she definitely had the whole picture and was able to help us navigate some decisions and helping both of us realize that we had to compromise.
We've talked about mother of the brides a lot….
What advice do you have for mother of the grooms?
My advice for the "mother of the grooms" is to be involved. I was very fortunate to have a great relationship with Clay's mother.
She was so helpful and communicative with me along the way. I even had to reach out to her a time or two to seek her advice and opinions. I was glad I did. As the mother of the bride, you're expected to be the lead in this event, and I would encourage you to solicit the help of the mother of the groom every chance you get. I needed her and she was a wonderful ally during the whole process.  She has an important role in the wedding too, and in planning the guest list as well.   I encourage mother of the brides to remember that the rehearsal dinner belongs to the groom's family.  It is their chance to welcome everyone to the festivities and they should get to do that exactly how they want. For those of us moms who definitely know what we want, letting go of even one event of the wedding can be difficult.  I was fortunate that Clay's mother and I were always on the same page. We have a wonderful relationship and I always look forward to seeing her.  Rachel absolutely adores her.
What is your favorite part of dressing "mother of" clients in the store?
My favorite part for dressing mothers is helping them through the entire process then seeing that spark of emotion that radiates on their face and they have their "ahh ha…this is the dress" moment. Mother of's experience the same "she said yes to the dress" as a bride does…it's just not publicized! I also love getting to hear all about the wedding and then getting to share some favorite designs with them.  I always ask them to picture everyone standing together for photographs and to think about the color wheel that is represented in that line up.  You would be surprised how many leave with a different color than they started with once they get that big picture in their minds. Getting to see post wedding photos and thank you notes sent to me talking about how magical their wedding was and how many compliments they received on their dress, absolutely makes my day and reminds me why I love to do what I do. 
Do you have any words of wisdom when it comes to setting a wedding budget?
Well, I'm not going to lie and say that I strictly stuck to a budget. Budgeting a wedding can be very stressful, especially when you start seeing the prices on small items or just things you know that will only be used once.  In our experience, we knew that photographs, food, flowers, and venue were areas where we knew we would not cut back and then we added estimates for the other things from there. Find areas you are willing to compromise the price on or you could save. Instead of hiring everything out, we did a lot of prep work ourselves by addressing all the invitations, putting welcome bags and party favors together. I would say to plan for under your budget, because you will of course go a little over.  At the end of the day, we went a little over, but we were still comfortable with our total- thanks to planning and to my husband's love of spreadsheets…. and I may have squirreled some cash away on the side to pay for those little "must have" extra things… but what he doesn't know won't hurt him- right??
Looking back,
is there anything that you would have changed?
In all honestly, aside from some photographer timeline expectations and some mother/daughter communication issues from the start, I would not have changed a single thing.  Our daughter and son in law seemed to be very happy with everything and that is all that mattered.
One of the great things about Rachel is that during the time leading up to the wedding, she did a lot of research and made notes of wedding things she saw that she liked or didn't like. (She was a bridesmaid in at least eight weddings before she was married).  She found her photographer by falling in love with someone's photos she saw on Instagram.  Her lists were helpful all along the way.  She may not have known exactly what she wanted sometimes, but she for sure knew what she didn't want and that gave us a great starting point.  The photos turned out amazing, but one of the best additions was our venue.  It was a location that had a place for the entire wedding party to stay from Thursday to Sunday of the weekend- a beautiful historic home for the girls and a very nice cabin for the guys.  They got to stay with all of their friends the whole time and everyone got to enjoy one another.  It was a weekend we will never forget.  Actually one of the hardest parts of the whole weekend was getting Rachel and Clay to leave the wedding- they didn't want it to end!
Mother of the Bride by Sherri Mosley